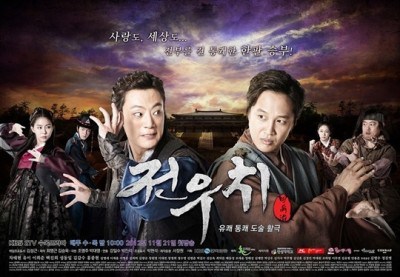 Jeon Woo Chi (2012)
Title: 전우치 (田禹治) / Jeon Woo Chi
Also known as: 우치 / Woochi
Genre: Action, fantasy, historical
Episodes: 24
Broadcast Network: KBS2
Broadcast period: 2012-Nov-21 to 2013-??-??
Air time: Wednesday & Thursday 22:00
SynopsisJeon Woo Chi based on classical novel of unknown origin dating to the Joseon era that tells the story of a free-wheeling, mischievous Jeon Woo Chi, who swallowed the gumiho's fox bead, which gave him powers of Taoist magic. He uses those powers to save the poor, oppressed people and becomes a hero. Dramabeans
Jeon Woochi (Cha Tae Hyun) is student of Hong Gil Dong, fights against Ma Sook (Kim Gab Soo) and Kang Rim (Lee Hee Joon) to protect Hong Gil Dong′s country Yuldo. Jeon Woo Chi acts like a lazy nobody in everyday life, but whenever he has to fight he transforms into the magician Jeon Woo Chi. He even puts his life on the line when Hong Moo Yeon (Uee), granddaughter of Hong Gil Dong and his fiance, falls under a spell and starts to attack him. Jeon Woo Chi who dreams of revenge after having lost his trusted best friend and lover is not interested in becoming a hero but becomes one as he gets rid of the bad guys.
Uploadboy.com


W.Chi.E01.Baros.mp4 – 240.8 MB
W.Chi.E02.Baros.mp4 – 223.3 MB
W.Chi.E03.Baros.mp4 – 211.8 MB
W.Chi.E04.Baros.mp4 – 199.3 MB
W.Chi.E05.Baros.mp4 – 206.6 MB
W.Chi.E06.Baros.mp4 – 216.3 MB
W.Chi.E07.Baros.mp4 – 206.3 MB
W.Chi.E08.Baros.mp4 – 214.6 MB
W.Chi.E09.HANrel.mp4 – 235.3 MB
W.Chi.E10.Baros.mp4 – 225.3 MB
W.Chi.E11.Baros.mp4 – 254.0 MB
W.Chi.E12.HANrel.mp4 – 245.9 MB
W.Chi.E13.YaYa.mp4 – 276.0 MB
W.Chi.E14.YaYa.mp4 – 268.1 MB
W.Chi.E15.KOR.mp4 – 256.0 MB
W.Chi.E16.HANrel.mp4 – 248.1 MB
W.Chi.E17.Baros.mp4 – 237.1 MB
W.Chi.E19.Baros.mp4 – 231.6 MB
W.Chi.E20.Baros.mp4 – 215.8 MB
W.Chi.E21.Baros.mp4 – 252.7 MB
W.Chi.E22.Baros.mp4 – 242.6 MB
W.Chi.E23.KOR.mp4 – 284.8 MB
W.Chi.E24.Baros.mp4 – 263.4 MB
W.Chi.E18.YaYa.mp4 – 260.0 MB
---
NOTE:You must be registered and logged in to access the download links above.

---
Permissions in this forum:
You
cannot
reply to topics in this forum