LA SOMBRE DELA PASADO (SHADOWS OF THE PAST)
Hello great people, hope you are all doing so wonderful. We are continuing with with LA SOMBRE DELA PASADO (SHADOWS OF THE PAST),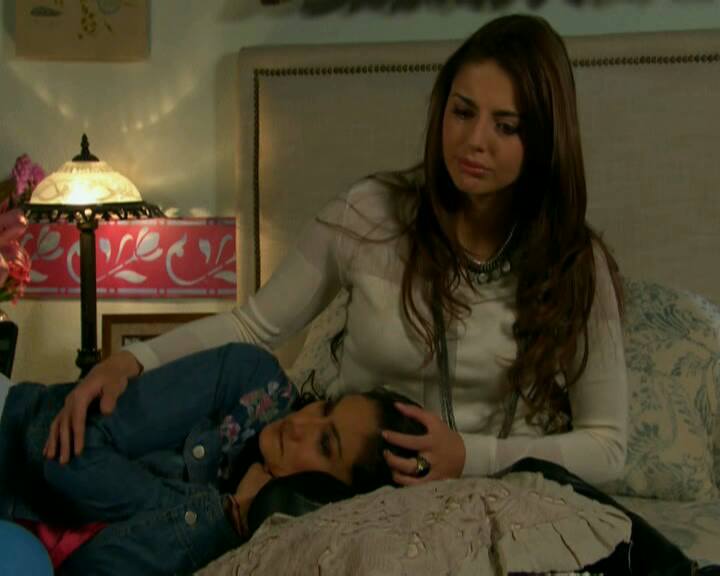 Severiano to be able to shut Jeronimo's mouth concerning the issue, he intentionally goes straight to see father Jeronimo for confession and he discloses to him that, indeed Emmanuel is the son he had with Roberta, also he killed father Sixto and burned down Roberta's farms. He also set fire into Aldonza's apartment and was the one who caused his accident. He and Roberta were also responsible in shooting Raymundo his brother and through that he lost his hands since Raymundo caught it it with a matchet but she doesn't care because Aldonza is paying for his lost hands.
Throughout the confession, one could tell that father Jeronimo's heart is filled with sadness and anger and not being able to calm his anger down, After everything Severiano rises up to go, and quickly father Jeronimo holds him by the neck and throws him on one of the chairs and just when he is about hitting him, his eyes comes into contact with the image of immaculate Mary on the wall and guiltiness caught up with him and he let go off Severiano and begins to cry and ask for forgiveness. Severiano then begins to laugh at him and says to him that, after trying to hit him, he hopes he can sleep soundly as a man of God.
Aldonza advises Lola not to love Patricio to make Emmanuel jealous but should love him sincerely and forget about Emmanuel since Patricio is a good and a gentle guy .
Patricio wants to do everything possible to win Lola's love back since he doesn't want to see him after Mary told her that Patricio took her out for dinner but after speaking with Mary about trying to make up with Lola by getting some things for her, Mary tells him not to do anything least to think of going to see her since it might seem that he is begging for her love rather he should stay back for Lola to come to him instead and this is all to get Lola separated from Patricio.
Following Uriel's attack on him, Severiano goes to the police to ask them about the investigation so far concerning Abelardo's death and the police tell him that they have arrested one of the gamblers and according to him he presumes that he (Severiano) is the one who ordered Adriano to shoot him. Severiano tries to everything as usual to convince the police officer to have his way.
To Uriel Abelardo seem everything to him and his loss causes him with too much pain that he refuses to recognize that his daughter Mary even exists since he refuses to speak with her anytime she gets closer to help him overcome his pain and Mary becomes so hurt that her parents concentration is only on her brother and counting her as an invisible person who is of no importance to the family.
Severiano arrives home to tell candela that he went to confession to tell him many things to shut Father Jeronimo's mouth and as of today he can tell that he is never going to have a sound sleep as a priest and candela grows worried knowing what Severiano is capable of doing.
Cristobal goes to see Renato to delay the divorce process since he needs a little bit of time to clear some things but no matter what Renato tells him that the only time he can give him is the processing time giving by the court and nothing else. Cristobal then asks him that then it means he will be using the opportunity to win Aldonza back since he's loved him all his life but he warns him not to try stealing Aldonza away from him because heavens know that he is not going to allow it.
Emmanuel helps Cristobal in an extraordinary way by helping Cristobal to enter into Aldonza's bedroom to cut off some of his hair whiles she sleeps by setting a fire to distract Mr. Carmelo so that whiles they quench it, Cristobal passes through the back door to enter the ranch to cut the hair.
In the morning, Aldonza tells Lola that she felt like Cristobal entered her bedroom last night whiles asleep to tell her how much he loves her but Lola tells her it is only a sweet dream which she wishes that it would have been real and Aldonza says to Lola that, if indeed her dreams will always be that wonderful then she would wish to always remain in that way to keep on dreaming.
Cristobal calls the DNA doctor Silvia gave his number to him ask him if he can have a DNA test done without any blood sample but just something pertaining to the Person can help solve the problem and whiles he begins making all of these enquires, Candela eavesdrops his call behind his door and she becomes nervous.
CATCH tonight's episode of La sombre de la Pasado (shadows of the past)  on UTV at 8pm.

---
Permissions in this forum:
You
cannot
reply to topics in this forum