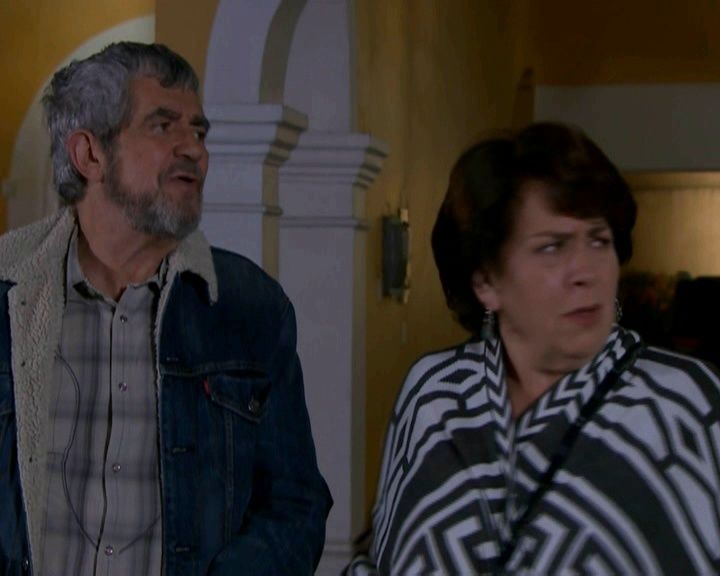 LA SOMBRE DELA PASADO (SHADOWS OF THE PAST) Hello great people, hope you are all doing so wonderful. We are continuing with with LA SOMBRE DELA PASADO (SHADOWS OF THE PAST),
Severiano takes the trunk to El-Santuario and pushes it into the waterfall and he becomes very happy seeing that he wasn't caught, his job is accomplished. His amputated hand then begins to hurt him ones again and he screams to ease the pain.
Aldonza after seeing Cristobal at the hospital and also considering Silvia asking her about why she allowed Renato to kiss her since he has misinterpreted it as she Aldonza is in love with her, she decides to ask Renato to let them give a distance between them from now so not to create any misunderstanding. Renato then pleads with her not to state that since he can't stay off because they are friends but no matter what Aldonza still insists and suddenly Renato could detect that Silvia is the mastermind behind Aldonza's decision.
Due to the hardship Severiano has been through considering the disposal of Alvatrie's Corpse, he has even forgotten about the fact that his son is at the intensive care and candela returns in the morning to meet his absence at the hospital and she becomes very annoyed that her husband has left their son alone to be there and she begins calling wherever place possible to as his where about since she feels he is with Alvatrie but Cristobal calms her down.
Humberto sits at the dinning and he tells them that Cristobal's condition keeps getting worse always since the artery fails to stick well in his legs and looking at the situation it may lead him to losing one of his leg and Prudencia begins making fun of it as usual and suddenly Humberto realizes that he shouldn't have said that before his wife knowing how slippery her mouth can be but all the same he warns her not to let anything out to Cristobal since he doesn't know anything about it.
Severiano arrives home and after Dominga and Melesio gave candela's message to him concerning Cristobal, he seems to have gotten short memory of the whole situation and after he left, the two of them begins contemplating on how weird Severiano looks and they also wonder where he was coming from at that time looking so ugly but Melesio asks Dominga that they stay off since it is neither their business. Severiano calls candela on phone and he only tells her that he's being busy the whole day and that has prevented him from stepping at the hospital.
Emmanuel sleeps in the open till morning after receiving create beatings from Uriel concerning Mary's lies and the community police find him lying on one of the benches and he helped him to take him home to el-Santuario.
Candela arrives home the next morning to meet Severiano still sleeping in bed and looking so much angry, she yells at him to get p and dress to go see Cristobal whiles she also gets dress to join him later if not Aldonza will get the chance to see Cristobal and quickly he grows angry. Candela enter her room and she brings out picture box and she begins to glance through each one of them and specifically she picks father Jeronimo's picture which looks affectionate and precious to her since he has always been the love of his life since childhood. She unfortunately leaves it ajar to the washroom and unluckily for her in that same vein, Severiano has also entered to excuse her to the hospital and upon seeing the Jeronimo's picture with inscription "for the most beautiful woman in the world", candela comes out and she becomes very nervous and Severiano becomes very jealous and in great pain tells candela that he now understands why she gives too much attention to the Priest. She tries convincing him to the maximum point but Severiano leaves to the hospital in deep pain to tell Cristobal about it and since he already knew it never came as a surprise to him. Candela then burns the picture but Dominga tells her that though she is burning it but the heart cannot be burnt.
Renato gets drunk since Aldonza has refused to have asked him to give a distance between their friendship and after Silvia returns from work, he becomes so furious with her being the cause of Aldonza's action therefore he also tells Silvia that if Aldonza doesn't want to have anything to do with him then he also doesn't want to have anything to do with Silvia since he can't be with friend who betrays his trust and Silvia becomes so offended.
Renato goes to ask Silvia for forgiveness but she is too much hurt to the extent that, she refuses to listen to him least to talk of forgiving him.
Prudencia and Valeria visit Cristobal and as usual Prudencia not being able to shut her mouth blows the news to Cristobal that he could lose one of his leg but even with that she can assure him Valeria will still be at his side and this make him suspects something fishy and quickly demands for Humberto. Humberto arrives and becomes very furious with Prudencia and walks them out of the ward and After he tells Cristobal about his condition and this comes as a big blow to him and Humberto encourages him to calm down because no matter what he is going to walk again. Humberto then comes out to ask Prudencia and Valeria to go home and asks his daughter to forget imposing herself on Cristobal because he will never love her one bit but Valeria gets bored with her father for always siding with Aldonza.
Madam Emma believed all the lies Mary told them concerning Emmanuel so the next morning immediately she reached the shop, she tells everything to Lola and she asks Lola not to share tears for Emmanuel because he is not worth it. In that same vein, Mary has been asked by his parents to take the candy box to the parish but she prefers to use it as a prove to tell Lola that indeed she was with Emmanuel so she goes after her mother to the shop to hide and after seeing that her mother is done talking to Lola about Emmanuel and left to the market, she goes to ask Lola if he mother has told her everything. Lola then asks her where she got that candy house and as usual she tells her that Emmanuel gave it to her and this confused and convinced Lola more to forget about Emmanuel.
Father Jeronimo and Aldonza come out of the parish and unfortunately, Severiano arrives to warn him to stay away from his wife candela and Jeronimo tells him that he was actually happy when the two of them got married but it is rather unfortunate that his act has turned Candela into a different person and before he could end his words, Severiano gets hurt and hit him mercilessly in the open. Aldonza after helping him get up from the ground, she asks the meaning and Jeronimo explains everything to her.
Emmanuel goes to see Lola and she asks him to leave because she doesn't want to see him ever again in her entire life.
Severiano awaits for Aldonza n the way and he warn her also to stay away from Cristobal because he is never going to allow her see him again. He then tries being sarcastic and asks Aldonza to give him another chance so they can be together and continue from where they stopped on the day he raped her. Aldonza not being able to contain all those awful things from Severiano, she spits on his forehead but Severiano without wasting much time licks it.

---
Permissions in this forum:
You
cannot
reply to topics in this forum