LA SOMBRE DELA PASADO (SHADOWS OF THE PAST)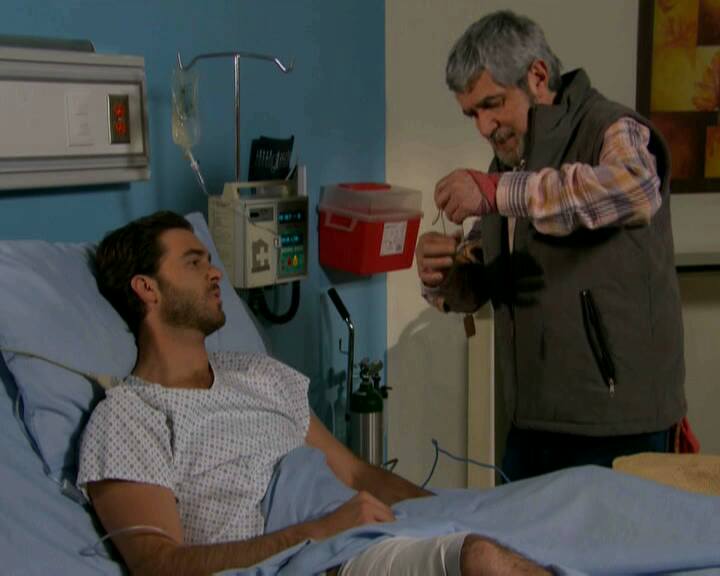 Hello great people, hope you are all doing so wonderful. We are continuing with with LA SOMBRE DELA PASADO (SHADOWS OF THE PAST),
Severiano awaits for Aldonza n the way and he warn her also to stay away from Cristobal because he is never going to allow her see him again. He then tries being sarcastic and asks Aldonza to give him another chance so they can be together and continue from where they stopped on the day he raped her. Aldonza not being able to contain all those awful things from Severiano, she spits on his forehead but Severiano without wasting much time licks it.
Emmanuel tries to make Lola understand that everything Mary said was a lie but Lola's mind is already made up to break up with Emmanuel so there is nothing Emmanuel could do for Lola to trust him.
Renato becomes so disturbed that due to the problems of Aldonza and Silvia and as Silvia is still angry with him after confronting her on the issue. He therefore asked Patricio to speak to Silvia to cheer her up for her but only for Patricio to get to Silvia's room to see that she's left with all of her belongings to Mexico as a letter she left behind says so and Renato becomes downhearted.
Madam Emma and Adelina sit in the open to take chat and Adelina reveals her new relationship with Joaquin to her and she grows so much happy for her friend. Madam Emma then chips in the fact that Emmanuel made a fool out of her daughter by taking her to Sanmegel to have sex with her and dumping her. suddenly Aldonza arrives to hear that but she states it straight to Madam Emma that Mary is a liar since after so many years of knowing Emmanuel she knows she will be incapable of doing so but Madam Emma still insists on believing the lies of her daughter. They all went later to Madam Emma's shop and Aldonza upon seeing Lola and she explained things to her, she asks her to give Emmanuel the chance to at least explain himself but Lola still insists. Lola then pleaded with them to help her find her mum (Alvatrie) since she saw Severiano there ones looking so strange and Aldonza cautions her not trust that man since he is capable of doing many things.
Mary takes the candy house to the church after accomplishing her mission with it and after Father Jeronimo enters to see it, he had a second thought that, Candela might be the brain behind it.
Humberto assures Cristobal that there is no need of worrying again because now the possibility of him walking again is very high and won't be long he would be discharge and it comes as a good news to Cristobal and mum and dad.
Valeria grows so furious about her mum for being such a gossip to that extent of telling Cristobal about his leg and that has also made her very frightened since she sees that her mother will find it so easy to blow the father of her pregnancy to people but she promises her of not doing such a thing.
Lola goes to look for her mum but she never saw her. So she goes straight to see Severiano to confront him to demand the where about of her mother and as usual tries to cover his sins with anger and said Alvatrie has left to Sanmegel but Lola challenges him she doesn't believe him therefore he is to tell her the truth if not, she would have to report to the police. Suddenly, Candela enters to second Lola and she also demand that Severiano tells Lola where Alvatrie is as she also wants to know and nervousness set in but at long last he threatens Lola to be secret unless she wants her grandparents to suffer the consequences but she ignores him and walked out on him.
Melesio goes to the hospital to see Cristobal but Severiano wanted to restrain him from entering but Cristobal asks him to come inside. He begins blaming himself ones again to ask Cristobal to forgive him but he tells him not to blame himself because he would do anything again to save Melesio from any harm even if it takes the last breath within him since he is important to him. He then gave Melesio a message to tells Aldonza and ask her to call him since he now has a cell phone. Melesio did exactly that and Aldonza becomes happy speaking to Cristobal and though Valeria was there at that time and this made Cristobal not to Speak so many words but Aldonza sensed it and she tells Cristobal not to worry because she can feel Valeria is there with him but all she wants to tell him is that, she truly loves him very much and wishes him speedy recovery.
Valeria gets jealous about the call and quickly comes out to meet candela and after explaining things to her, candela assures her not to worry because she is about telling Cristobal about something and that will make him forget about Aldonza forever. Candela then excuses Valeria to see Cristobal and she tells him that whiles he fights for his life on the hospital bed Aldonza and Renato were sharing kisses for everyone to see and comes a shock to Cristobal.

---
Permissions in this forum:
You
cannot
reply to topics in this forum