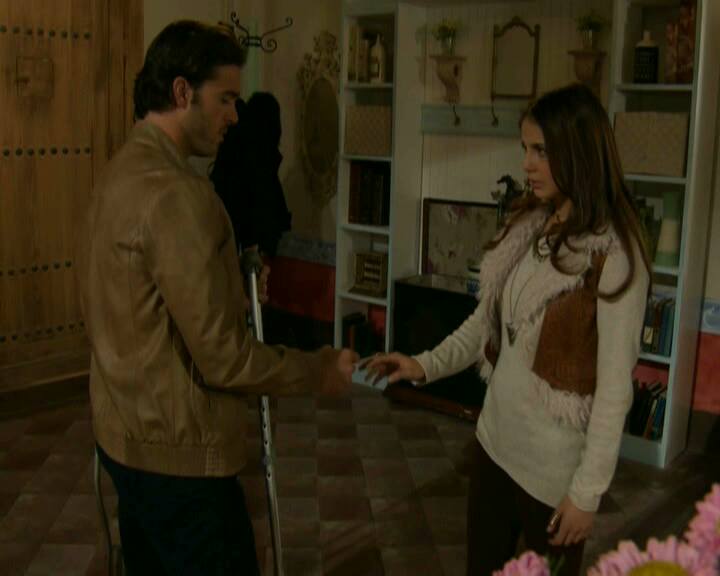 After Cristobal addresses Aldonza as his sister, they go inside to talk and Cristobal asks her to forgive her of all the pains he's caused her and therefore he's decided not to see each other again so not hurt anyone anymore. Aldonza then escorts her to the door and she cries with so much pain to bid him goodbye.
The audience and Emmanuel becomes so down hearted since their favorite Emmanuel's has been cheated and just when they lost faith, the organizer announces that the first position came as a bracket and the other person who came first position is Emmanuel in the horse competition and the audience and Emmanuel becomes so happy and he quickly goes to take his award and the audience begin to take pictures with their star Emmanuel. Emmanuel goes to hug Mr. Antonio and thanked him for everything.
Jeronimo continues to convince candela to allow him to have a reconciliation mass for the two families and though it was a tough decision for her but she accepted it and she goes home to convince Severiano about Jeronimo's decision and he unwillingly agrees. Candela again goes to inform Cristobal about it and he also agrees.
Father Jeronimo goes to speak with Thomas's parents about his situation and why they kicked him out and after letting him know, father Jeronimo tells them to allow him to let Thomas stay in the parish for a while he tries to make him speak out the truth and they agree.
Renato and Silvia meets and they settle their differences and later Renato asks her to come back to the firm. So Silvia gives him her word to help him win over Aldonza this time around and won't interfere.
Aldonza sees Severiano at the gate of Alvatrie's residence and she boldly approaches him to ask if misses his girlfriend and Severiano becomes nervous and questions her if she's been following him but she tells him she has no point in doing that and that she was just passing by and saw him. She again asks him as to he feels so anxious whiles opening the door and she seizes the opportunity to warn him that, el-santuario is never going to be his so long as she lives because she will definitely get it back. Unconsciously to her, Severiano pulls her inside the room and as he tries taking advantage of her, his hand hurts again and he begins to scream and cries his eyes out and Aldonza had her way out.
Candela goes to inform Jeronimo that Severiano has accepted to come for the reconciliation and Jeronimo in appreciation, he gives the candy house to her as a remembrance of this reconciliation and she accepts and takes it away.
Joaquin goes to look for Adelina but since she's asked Carmelo to always tell him that she's not in the house as she never want to see him again, Carmelo tells him that and just when Joaquin is about leaving, lola intentionally arrives to tell Carmelo that Adelina is inside and quickly she takes Joaquin to see her and after settling things, they kissed passionately.
Cristobal after dressing up for the reconciliation mass, he changes his mind and tells Melesio that he's not going anymore as he wishes to go a place far away so not to cause any problems for Aldonza and also to help him overcome all these trauma and Melesio agrees.
The church becomes filled up with the people of Santa Lucia awaiting for the reconciliation of the Mendoza's and Alcocer's families. Father Jeronimo then allows Lulu to distribute some papers around to each and every one and whiles the distribution was ongoing, he announces that, Aldonza and Cristobal and not siblings scientifically through a blood sample DNA test he conducted and that all those rumors are nothing but lies. Severiano and candela then grows so furious and Valeria upon hearing that also collapses and Aldonza sees it as a dream come true but unfortunately, Cristobal never came there since in that same vein he has already board a bus to only God knows where.

---
Permissions in this forum:
You
cannot
reply to topics in this forum