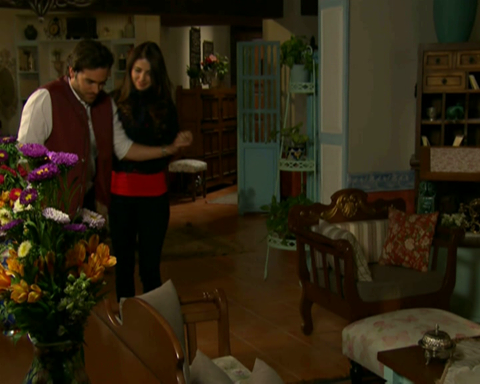 LA SOMBRE DELA PASADO (SHADOWS OF THE PAST) Hello great people, hope you are all doing so wonderful. We are continuing with with LA SOMBRE DELA PASADO (SHADOWS OF THE PAST),
Aldonza begins to think about how and when she and Cristobal met and just within a second, Carmelo enters to inform her that someone is after her and to her surprise it was Cristobal who has return upon Dominga's call to celebrate the rest of the explanation of Father Jeronimo's show with her and Happiness becomes the order of the day and kisses be what!!!!! Hahahahahahaha!!!! Waaaaooo, what a great day for the two youngsters.
Aldonza then asks Cristobal why he went away and he discloses to her that he went to look for Emmanuel and what amazed him was that one of the organizers said Emmanuel won the horse competition. He again said that this time around no one is goig to separate them again since he always felt within him that his heart will never lied to him and that she is his woman for life.
Aldonza discloses to Cristobal that father Jeronimo's life is in danger since he might end up in jail for creating that scandal but Cristobal urges her not to feel worried because he is going to make sure his father doesn't do anything silly.
Lola goes to see Mary to clear things up on Emmanuel but Mary declares that she isn't interested least to even talk to her because she is the only but a maid at her mother's shop and don't also have a mother as her mum is a prostitute. Lola gets angry at the statement and slapped Mary and she also returns her slap and this ends up in a great fight of giving each other bruises. Lola then heard to the shop to meet Patricio with madam Emma and she becomes very worried for Lola but she asks her to go home and take care of her daughter Mary as she has more bruises than hers. After Madam Emma left, Patricio then took care of Lola and helped to treat her wounds.
Severiano enters Valeria's room to look for her but unfortunately she was in the bathroom and upon seeing, he picks up Valeria's dress on the bed to smear it and put it back again. Immediately Valeria comes out of the bathroom to see him and she asks why he is in her room. Severiano filled with much tension, he just tells her that she is not to get worried as he only came there to welcome her officially to his house and quickly he left. After, Valeria grows so confused as to why Severiano feels so nervous.
Aldonza discusses her father's cremation with Silvia and Silvia tells her that before anything they have to get the death certificate of her father and she agrees to bring it to her. In that same vein, since Adelina also looks for the death certificate and after finding it, she burns it into ashes to prevent Aldonza from doing the cremation to know that secret she is being hiding about his presumed sister.
Severiano, candela and Valeria sit at the dining table and as they deliberate about how to look for Cristobal, Cristobal enters to demand from his parents why they made that lie about Aldonza and him that they are siblings and quickly they all become nervous. He again asks them how they could be so wicked as to Temper with their DNA Test and they try denying it with Severiano getting so furious at him and questions him not to speak to them like that because no matter what they are not going to allow him get married to Aldonza. Cristobal then says it straight to their faces that, he is getting married to Aldonza the next day and father Jeronimo is the one going to bless the marriage for them and quickly Severiano spills it out to him that, the police is already going for Jeronimo and by this time he knows that they are on their way or has already arrested him. Candela becomes worried but prefers to keep quiet since Jeronimo has hurt them a lot but Cristobal says to his father that he is indeed very wicked.
The police goes to arrest father Jeronimo just in front of the parish and Thomas tries defending him but Jeronimo asks him to allow the police do their Job since he knew that his scandal will definitely end him in prison but all he wants him to do is to inform Adelina and Aldonza about it and quickly Thomas run to inform them and Aldonza calls Renato to inform him about the situation and together they heard to the police station speak with police.
Aldonza is allowed to see father Jeronimo in prison and she begins to cry but he rather asks her to calm down and be strong for him and the others (Emmanuel and Adelina) because even if he should spend all her life in prison he is happy that he was able to bring the truth to end the wickedness of the Mendozas and also now she and Cristobal can be together without anyone separating them and with this, he knows that he will surely be justified. Aldonza Then Tells Him That, After Saying All These Words To Her Whiles He Is Lying In Prison Because Of Her, It Proves How Great He Is And Therefore He Is Her Hero.
Canedela tries to convince Severiano not to put Jeronimo in prison because that will make them lose the affection of Cristobal but he still insists on doing exactly that. Whiles they continue discussing about the issue, Melesio and dominga enter to tell Severiano that, she dominga is also an accomplice of father Jeronimo and therefore if he has putting him in prison then he has to put her also in prison because she helped father Jeronimo with forging of the signature.

---
Permissions in this forum:
You
cannot
reply to topics in this forum