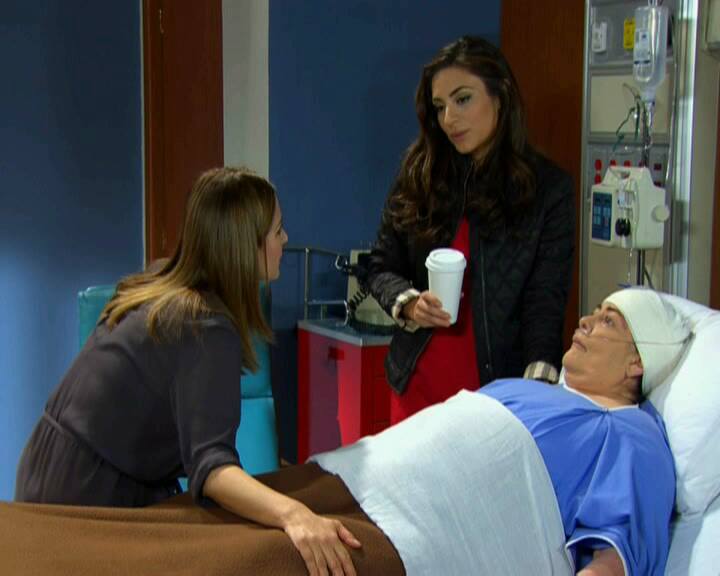 LO IMPERDONABLE (UNFORGIVABLE),
Hello great people, we are continuing with LO IMPERDONABLE (UNFORGIVABLE) and in today's episode,
After hours, veronica wakes up and seeing the blanket and the flower she determines it was martin's idea so she stands up to go outside and only God knows what she had in her mind but after opening the door and seeing her husband lying on the floor, she pulled back and looking so speechless, she goes straight to cover him with the blanket and kissed him to rest well.
Manuel continues to threaten Perla to stay away from Pablo if not he's going to kill him as that is not a new thing to him when it comes to killing people and this brings severe trauma and panic to Perla and Blankita. He forces her to write a letter to tell Pablo that she hates him to the maximum and the mere seeing of his face makes her vomit and so she's agreed to marry Julio too and though Perla resisted but he compelled her to do it, so Perla did as he ordered and the letter is sent to pablo and he becomes so dejected after he received the letter from Julio and it even ends up in a great argument since Julio now have the upper hand.
Magdalena and botel organizes for a physiotherapist to take care of Matilde so she can recover from the sickness early and veronica grows so happy for everything Magdalena is dong to see to the wellbeing of Matilde.
The maid sweets the hall and she discovers the broken pieces of Virginia's tablet which she struggled with Matilde that led to her present misfortune and she shows it to veronica after she goes home to take a shower and there veronica suspected something fishy that Virginia might be the one who pushed Matilde down the stairs to take the tablet from her but only God knows why.
A company has found veronica's collection as very pretty and therefore the Prado Castelo needs lots of gold to make the jewelry collection for this great company and it appears that martin and Botel's mind has generate lots of gold so Botel consults Martin to allow them work hand in hand with the Castelos but the mere hearing that the deal will be in such a way that Emiliano will have to work closely with veronica just pisses Martin off but for the sake of veronica's happiness he accepts it.
Mr. Jorge decides not to punish Virginia but to give her a second chance in life after Salma pleaded on her behalf. So the second chance is that, either Virginia choses to work as a common employee in the company to prove herself responsible if not she should forget about getting the 15% inheritance he even promised to give her.
Manuel goes secretly to ask a doctor to forcibly accept to abort Perla's pregnancy but the doctor sacked him out of his office to leave and never come back if not he is going to report him to authorities as attempting murder since that unborn child also has a right to live and also it without the consent of Perla. Manuel becomes frightened and left quickly upon hearing about the police.
The family gather at the company and in the office of Jorge and veronica is introduced to Virginia as her new boss and it comes as a great embarrassment to both Salma and her but Virginia have no choice than to accept unwillingly but happy in 70% way as she says in her heart to destroy veronica by being her messenger/secretary.
Perla helps Blankita to get out of the room through the back door with tied and joined clothes so sge goes out to meet her Prince charming.
The Castelos meets with Botel and martin and they disclose to them about their found gold at the mine and how that can help veronica to gain more production with her collection. Emiliano asks them to signed the contract about the deal to go into business with them but before that, martin sets conditions that, their work team should include Emiliano, veronica and him so they can all make decisions together if they are to supply them with the gold and from the look on their faces it seems everyone has a mix feeling (confused or acceptance).

---
Permissions in this forum:
You
cannot
reply to topics in this forum