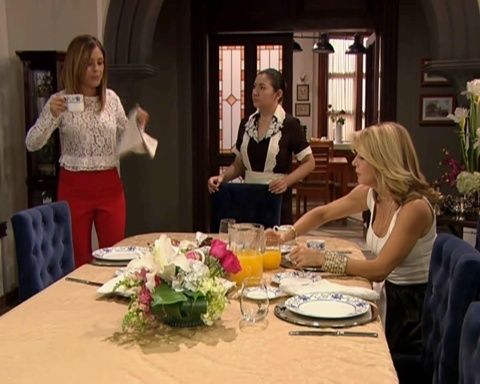 LO IMPERDONABLE (UNFORGIVABLE),
Hello great people, we are continuing with LO IMPERDONABLE (UNFORGIVABLE) and in today's episode,
Emiliano and veronica arrives home to see flowers arranged nicely at the living room as if welcoming a new bride into her home and it comes as a surprise to veronica and Emiliano as they begin to wonder who did it. Emiliano then immediately guesses that it was martin and no one else because he is only doing that for attention from her (veronica). Veronica then takes a flower and smell it and she tells Emiliano that she wished Martin would have thought of her in a loving way like this when they first got married and went to Mina Escondida but that is over since that love have being destroyed by his lies therefore she is going to let martin know that their love and the moment of showing great gestures towards her just to win her love is over.
Dussage warns the fat guy to stay off Claudia because the only person she's ever loved is him but the only thing he can say about Claudia is that she is only confused as to who to love whether martin or he (Dussage).
Pablo continues to work at the Abattoir to earn income to help his mother to cater for expenses and also to save money to take care of Perla and their unborn child since he still have the hope of coming together again so he tells his mum as she discloses to her about Perla's pregnancy.
The time arrives for Manuel and his family to go back to Mina Escondida to join Crescencio as he ordered them to come back and this causes great sadness to Blankita since she has now discovered her prince charming and wishes to spend all her time to be with him.
Whiles in the vehicle going to Mina Escondida, Perla tells Julio that she feels within her that her grandfather is planning something evil against her and the unborn child and that is making her very nervous but Julio assures her not to worry because he is never going allow anyone to hurt her because the love he has for her surpasses the pain he is willing to go through just to gain her love.
Salma wishes to have her family close to her so they keep her company but both Virginia and Emiliano tells her that they have pending matters to attend to at the work place so they left her isolated and she becomes disturbed with how everyone including Jorge has been treating her nowadays.
Veronica goes to see martin with her attorney so martin agrees to sign the divorce paper as she's already signed hers but he refuses to give veronica that pleasure and still insists that veronica forgives him but she answers him that in order for her to forgive him she has to lose her memory to forget all of the awful things he's done against her. veronica forces martin to sign the divorce papers but he takes the papers and tore them into pieces to go after veronica to still insists that she forgives.
Crescencio takes a stroll and to his surprise anyone that sees him looks at him in such an awful and ridiculous manner and all is because the gossip has gone through the whole of the town that the most respected and decent cresencio's in-law Joaquin has dishonored their family by flirting with teacher Gabby.
All of the parents go to the school to pick up their children telling Teacher Gabby that she is not a good example for their children to follow since she is only but a husband snatcher and this comes as great embarrassment as she sits to cry all her eyes out.
Both pablo and Arturo clashes in front of the house in trying to pay a visit to their princesses but they becomes very worried after discovering that they left back to Mina Escondida but they console themselves with a letter Perla and Blankita left behind at the window for them and it bring smiles on their faces knowing that their girls indeed love them.
The prison doctor goes to have a check on Aaron since he's still receiving treatment from the gun shot and after, the doctor tells him to try and do surgery if not he's going to be crippled all his life and also if proper care is not taking he will start losing mobility and that might cause him not being able to walk again. After the doctor left, he grows so furious and attacks his brother Clemente for being the cause of his misfortune since he could have generated lots of money to help him treat those gun shots. He goes as far as very impulsive and strangles Clemente to death.
Raymunda and the rest of the family arrive in Mina Escondida and she excuses Crescencio to go speak with Joaquin to know the exact truth about the rumor but Crescencio shuts at her to sit down because as it is, she is never going to be with Joaquin ever again and that his final decision.
Daniel hires some guys to get rid of martin and only God knows his reason behind that so as martin goes after veronica on the street and trying to cross the road to catch up with veronica on the other side, this guys discover him and almost run their car on him.

---
Permissions in this forum:
You
cannot
reply to topics in this forum