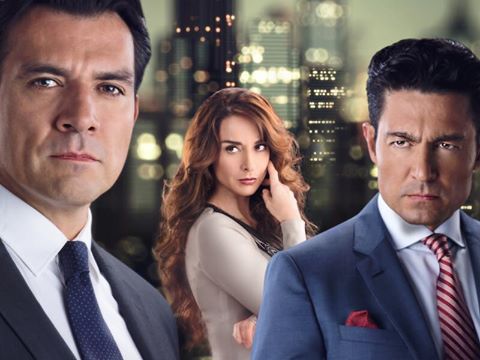 Hello great people, we are beginning with PASSION AND POWER and in the first episode,
We start with an argument; their voice is so loud that one can hear them downstairs. The wife prefers to stay at home instead of attending the business dinner. The husband isn't pleased, he reminds her she is wife and it is her duty to attend such dinner. He gets violent and grabs, she plead with him to let her go and tells him if he keeps insisting then he will have to kill her.
The husband is willing to do just that, he drags her to the bedroom and asks her to get ready. The woman resists, she is his wife and not his slave, and she won't let him treat her this way. Her husband yells at her to keep quiet and obey him. The bedroom dressing mirror gets smashed. We finally see a face; Julia watches herself in the broken mirror. Julia and her husband end up in a first class restaurant for their business diner with the Santos. Eladio checks the time on his new watch. Julia tells him it looks nice on him and smiles; well Eladio saw the watch and was willing to buy it no matter the cost. Mariana Santo wonders if he bought at the auction he just attended. Julia suggests the Santos come with them at their next trip to New York.
Julia and her husband Eladio pretend to be a happy couple in front of the Santos. Arturo Montenegro and his wife Nina return home from a party. She leads her husband to the bedroom and asks him if he saw Daniel's car. Yes he saw it, he tells her it was a birthday gift for his wife. Nina asks her husband for the same car and kisses him. Arturo reminds her he changed her car 3 months ago, Nina agrees but she wants a new car, well she knows he has money and can afford it. Arturo asks her not to insist because she won't convince him to buy her a new car. Back at the restaurant, Julia invites Mrs. Santos to her foundation meeting. During the conversation we get to know Julia knows nothing about technology. Not even how to manipulate a cellphone, her husband teases her, everyone at the table laugh expect Julia.
Nina intends to seduce her husband to buy her a new car. She tries to make love to him but he initially refuses because he had to leave early the following day. Julia and her husband return home from dinner, Eladio is happy about her performance; Julia is tired of pretending to have a happy marriage. Eladio is an abusive husband. Julia had to hide in her closet to prevent another fight. Nina succeeds in convincing her husband to make love to her.
The following day she tries to convince him to stay in bed with her but he refuses he had meeting. She finally allows him to get up and get ready; she however thanks him for accepting to her buy a new ca for her. Eladio reproaches his maid for coming late with the newspapers. He asks if his wife is already awake, the woman decide to check but he yells at her. Julia just woke up and put her ring on. There is a picture by her bedside, not her husband. She goes to the porch to inhale from fresh air and play with her birds. She returns to the bedroom and sees her husband. He reproaches her for waking up late; Julia tells him she isn't feeling well. Eladio feels it is only an excuse for not talking to him. She assures him she isn't feeling well, Eladio wonders how she thinks he also feels. He takes the frame by her bedside and breaks it telling her she is only eyes for this.
Arturo kisses his wife before going to the office. He feels she must be excited because of their daughter Regina's wedding. Nina wants her daughter wedding to be best and have everything. Eladio threatens Julia to break every picture of their son, if she keeps putting one by her bedside. He asks her not to worry about her son; he is having a good life in Monterrey. Julia yells at him it is their son, he is studying hard to finish his master degree. Eladio wants David to join his company and help him against Arturo Montenegro. Julia wonders why they are enemy when they are both great entrepreneurs.
Eladio reminds her that her war between him and Arturo is to the death. He grabs Julia's throat and reminds her she knows how it all began. Joshua brings red roses to his fiancée Regina. She loves them, he hopes she is free in the afternoon he has a surprise for her. Regina loves surprises and kisses him. David calls the house and requests to speak with his mother. Simona decides to take the phone to Julia in her room; Eladio interrupts her on the staircase. Simona tells him it is David, Eladio takes the phone and tells David his mother is sick.
Eladio warns Simona not to mention anything to Julia. Nina is rude to Arturo first male child at breakfast; Miguel pays no attention to her. Regina arrives and asks her mother to respect his brother. Nina tells her half-brother, Miguel is not her son. Consuelo soon joins them; Nina refuses to have breakfast with them. The three ends up chatting about the wedding preparation. Daniella joins her and she is of course a duplicate of her mother. She meets with her favorite brother on the staircase.

---
Permissions in this forum:
You
cannot
reply to topics in this forum