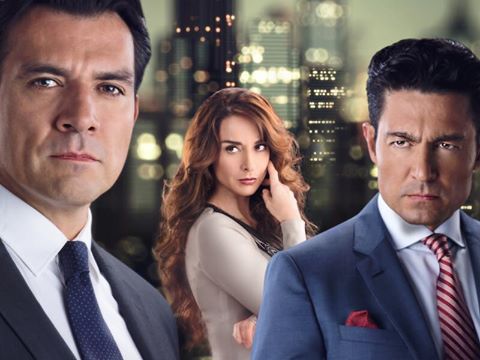 Helllooo great people, we are continuing with PASSION & POWER and in today's episode
Regina arrives in Queretaro and upon arrival in her hotel room, as he removes herself to go half naked, David comes out from the bathroom and Regina becomes frightened and looking into David's face, she realizes that the face seems familiar. She tells him to get out of the room because the room belongs to her and since they both couldn't understand why that has to happen, so Daniel phones the receptionist and it is cleared that they were given the same room by mistake so Daniel agreed to leave the room for Regina and move to a different room to be a gentleman.
Julia sleeps and Eladio thinks she looks so beautiful and would love to watch her sleep 1000* to just stir at her.
Daniel comes back to pick his phone and he questions Regina if she never got wedded after he saw her dressed in her wedding gown and she says to him there was no wedding because she canceled it. They both accept positively that they are both different from what they thought each other was and they agree to talk later.
The warder tells Caridad that her hearing will be delayed again and no one knows why but that is what the authorities are saying and this shatters her since she had the hope that she was about to be released after 20years of being in jail for murdering her husband and as it is, it turns out that Eladio is behind the postponement because he refuses to let Caridad out of jail to reveal the secret to Julia that Franco is his son to destroy the great love improvement he is now building up with Julia.
Arturo keeps distancing himself from his wife since he saw Julia but Nina still trying everything possible to have him closer but it is to avail and she now becomes a bit suspicious.
Franco still doesn't have the courage to tell Eladio about him and Gabriela's relationship and therefore it continues to annoy her so she tells Franco straight that he is going to take the bold step in doing that if he can't.
Julia tells Gabriela that she now looks very happy with Eladio and now she can see that he is actually the man she wished to have loved long ago and that mean she has to forget about Arturo since both of them are now married and Gabriela thinks that is the right thing to do. Gabriela the seized the opportunity to let her auntie know about her relationship with Franco and pleads with her to tell Eladio about it for them.
Daniela discloses to her mum about being with David Gomez Luna and how she's dumped him and her intention was just to pay him for all the wrongs his family has caused hers. She again tells her about meeting her long boyfriend Johnny and they rekindled their love and her mum thinks she shouldn't have done that because that could have being a great scandal if people should have seen her and David together.
The hotel business association meets to choose a new president for the association but they think Eladio can't be their president since there was a report that he was using a fake license for managing his hotel therefore making him their president will only tarnish the association's image but Eladio tells them it's just a misunderstanding and therefore will clear it to attain that presidential position and this makes him go bad and goes home to ransack things in the house blaming Arturo for being behind his misfortune and Julia seeing how bad Eladio feels, she asks him to make love to her and it comes as a shock to Eladio since after 20 something years till date after their wedding, there has never being any intimacy between them.
Regina's car broke down and fortunately David arrive with his motor and decides to give her a lift to wherever she wishes to go but she refuses to let him and coincidentally not knowing they were both heading towards the same company and upon seeing him there she becomes shocked and the leaders introduces David to her as the engineer who will be handling the project whiles Regina is introduced to him as the architecture and they are going to work hand in hand and both think it's going to be a pleasure to work together.
Maribel's sickness keeps getting worse and Clara takes her to the hospital and the doctor
Joshua goes to complain to Nina that Regina went to Queretaro without letting him know. Nina and her Daniela and Erick calms him down and not to worry because no matter what she is going to convince Arturo to compel Regina to marry him if not she is never Nina Montenegro.
Consuelo wishes to turn down the modeling campaign offer the modeling agency gave her just to make Erick happy and Miguel thinks if that is a decision she's taken, then he will support her.
David offers to give Regina a ride on his motorbike since her car is still not fixed and straight away they move to the hotel to change and coincidentally, they meet at a restaurant but on a different reserved tables and David does everything possible to text messages to Regina asking her about what she has for dinner and seeing that David actually wants to have a talk with her, she replies to share a table with her instead of the massage so they can actually talk and quickly David joins her to have dinner and they share great moments having all the drinks in the world.
Nina tries convincing Arturo to compel Regina to marry Joshua but Arturo grows so furious at her to stop insisting that their daughter marries someone she obviously does not love anymore so she should cancel the wedding but it seems Nina still insists because all she wants is Regina's happiness so Arturo leaves home to save himself from the great argument from Nina.
David takes regina to the hotel and since she feels a bit tipsy, she sounds so funny and both of them feel that they actually are beginning to like each other a lot and they kiss.

---
Permissions in this forum:
You
cannot
reply to topics in this forum