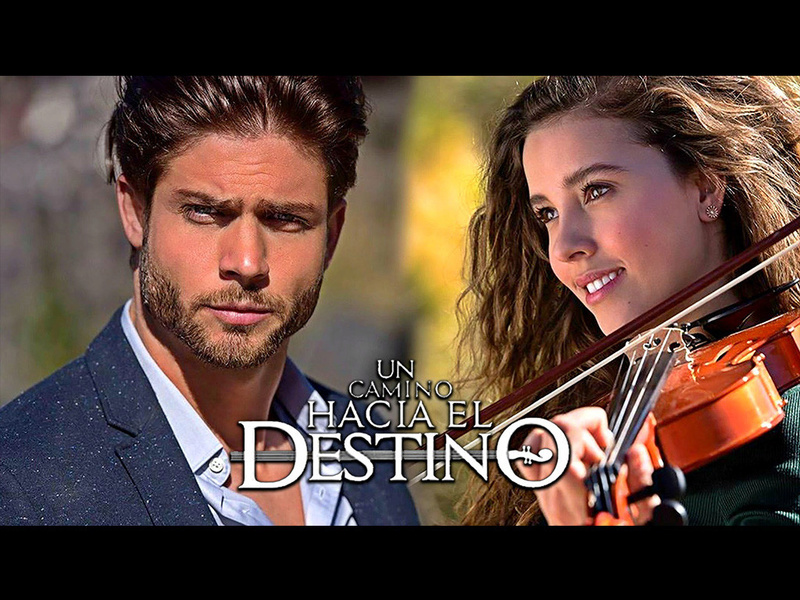 Hello great people, we are continuing with ROAD TO DESTINY and in today's episode,
Amelia wakes up in the morning, dresses up to pick Fernando to the court and Pedro tries asking them where they are going but Amelia says she is taking her to the hospital. After they left, Pedro looks so confused and depressed.
Upon arriving at the court Felipe meets them to introduce himself as the lawyer of Fernanda but Amelia thinks he is just supporting her daughter to do nonsense and Felipe tells her not to worry because counselor Luis will settle things with the court but Amelia thinks that she is the one who has something to settle with Luis vice versa.
Luis steps out of his car and Amelia tries to speak to him but to her surprise he never even turned to look at her face least to think of talking to her and that causes a great pain to Amelia. Fernanda after realizing how sad her mother looked after she spoke with Luis, she goes to ask her mum what Luis said to her that has caused her great pain but she will not speak. So, Fernanda goes after Luis to attack him on what he said to make her mum go sad but Luis rain all the insults on her and then shuns her. Suddenly, felipe and Amelia arrive to tell Fernanda not to say anything to Luis if not she is going to condemn herself. Fernanda then questions her mum what she meant about that and as Amelia was about to spill the truth to her Felipe interrupts and asks them to enter the court room but Amelia prefers to go home.
Carlos arrives immediately and begs Fernanda to forgive him but she still looks so annoyed with Carlos for not pleading on her behalf and causing all this court case happen.
Court hearing – Luis presents his case as not hitting her with his car.
Judge – Thinks Fernanda has every right to sue him for emotional trauma and this can even make him pay for it in prison if he fails to pay the damages the court will ask from him. After the sitting Fernanda wants it to end but Felipe thinks they've won and Luis thinks they started the war so they should end.
Pedro explains every bit of the secret about him and Amelia's marriage and Rosaura thinks he's done a lot because if it had being any man he would have left her for allowing him to lie beside her without any intimacy for 19 years now and Pedro says he has no regret because he truly love Amelia and especially Fernanda. But you could see that Pedro is actually suffering.
Fernanda looks so worried about her mum and as she plays her violin to get over the pain Camilla arrives to ask her to stay the night at her dormitory so he pleads with his father and he grants her permission on the other hand she calls her mum to ask permission and she shouts at her to go wherever she prefers as she doesn't even want to come home to meet anyone and this makes her so sad and She packs her things to spend the night at Camilla's room.
Amelia goes to her friend Lupe to disclose to her about Luis and how he even didn't recognize her making him look like a trash and Lupe advises her to forget him and move on.
Mr. Fernando gets a heart attack and Mariana calls Carlos to attend to him and he goes over and upon Mariana seeing him she grows so nervous since he thought Carlos was going to tell her dad about her kissing with his father Luis. Mariana prefers to see him out and explain things to Luis about the kissing but Carlos angrily tells her that he is too smart to be manipulated and therefore should leave.
Rosaura goes to speak with Amelia to stop being so bitter against her daughter and Pedro and be more grateful and show a bit of gratitude but she tells her to take care of her school whiles she takes care of her home since she has no right meddling in her family matters. She then walks out on Rosaura.
Fernanda and Camila sleep deeply and all of a sudden anonymous person enters to take her violin without their notice and they wake up in the morning and she grows so disturbed.
Amelia feeling so sad about life for being the wife of a gardener who doesn't have a penny to his name and immediately Fernanda enters with Camila whiles she compares Luis and Pedro and they come for breakfast but she sacks them out slaps them with a cloth and she sits crying.

---
Permissions in this forum:
You
cannot
reply to topics in this forum