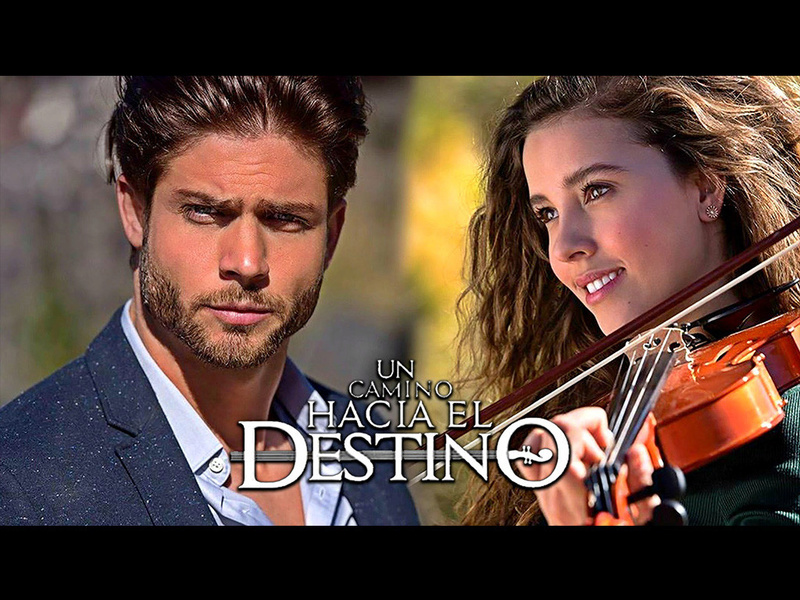 Hellooo wonderful people, we are continuing with ROAD TO DESTINY and in today's episode,
Pedro arrives home with some items for Amelia but she asks him to put it somewhere. Fernanda wonders what her father talks with Luis about and Pedro asks her to go take her bath. She gets up kisses her father and turns to her mother but she rejects her once again as usual but Fernanda tells her father not to worry because she is used to it. She leaves and Pedro asks Amelia how long she is going to keep rejecting her daughter but she doesn't care. Pedro tells her that the only worse punishment is that she has to put up with him because she will be seeing will be seeing his face each day of her life. Because, he will always be near her though she doesn't want it.
Amelia tells Pedro that she is fed up with his fake marriage of theirs and telling everyone that Fernanda is his daughter and Pedro says of cause she is because she raised her up as his own daughter but Amelia says to him that he should accept that fact that she is Luis' daughter, because Luis is special person unlike a gardener like him who meddles with trash people making like those street guys who buys her cesadias.
Fernanda goes to see Carlos to ask him about what her father came to their house to talk with Luis but Carlos changed the topic and tells Fernanda that after they went out for that launch, she won his heart and that is what it is going to be forever and they kissed in that same vein the teacher looks for Fernanda's where about in class and Camilla tries to defending her but it seems her enemies were at work and the teacher decides to let mother superior know why Fernanda has absent herself in class foe several days.
Camilla confronts Carolina about destroying Fernanda's violin and she pretends not to know what she is talking about but Camilla puts her in her right place that she can't fool her with lies because she is the worse person she is seeing and Carolina says she won't allow her to talk to her like that but Camilla says she started the war so they should end and the other friends think the violin thing will be totally forgotten after mother Rosaura about Fernanda's absenteeism in class.
Felipe intentionally tells Carmela that Carlos has confessed to him that he is interested in her (all because she wants to go out with Fernanda) and Carmela also grows happy. Coaching her not to behave like the shy type but express her love seriously to Carlos and with that he will know that she also is interested in her and thereore making a first step to propose will be great without any embarrasment.
Camilla reports to Pedro about Carolina being responsible for destroying Fernanda's violin and she doesn't want to report. Carmela now sees where Fernanda has that character and Pedro asks Camilla to give helping hand to do something plan.
Mariana accepts to go the hospital with her father and on their way Mariana says after they can discuss about Luis last WILL and Mariana says Blanca told her she discussed with her but Fernando says he hasn't done anything like that and Blanca says she doesn't play lies with such things may be he is going synai. Fernando gets angry with her says just because she has worked at the ranch so many years doesn't give her the right to disrespect him if not he will fire her.
Pedro and Carmela sends a wood to a violin maker to make a similar one for her daughter and the man does it perfectly well and Pedro grow so eyes filled with tears of joy.
Camilla pleads with Fernanda to go out on a date so she can meet Carlos since Felipe told her he is interested in her and quickly, Fernanda grows so nervous as to why Carlos has to say that to Camilla when he has also proposed to her too. So she tells Camilla she isn't going with her to any date but Camilla convinced her but before that she takes Fernanda to come with her for a surprise and she closes her eyes till she gets in front of her dad and Pedro brings out the new violin he made for her and he tells her that he is never going to let her fall and so does her friend and Fernanda looks so happy and hugged her dad and camellia thanking him so much for his love. She takes it to the school campus to play and Carolina and her friends come to pass by and wonder where she got it from.
Amelia calls to his father's house and Blanca picks it and Amelia recognizing Blanca's voice, she expresses how she misses her and when she was just about to disclose to her how she is suffering and where they can find her, Fernanda and Camilla enters and she cuts the line telling her that she always shows up at the worst possible time and wonders why Fernanda can't make her to have any bit of privacy in the house. Fernanda then asks her mother why she is crying and she says her eyes itch and Pedro doesn't care whatever happens to her and Fernanda tells her that all these crying started after speaking with Luis. They then ask permission to go to a library and after so many questions, she grants it to her but returns at 8pm.
Felipe calls Carlos to invite him for a date made for four and he agrees because he thinks it is a perfect opportunity for him to see Fernanda his love again.

---
Permissions in this forum:
You
cannot
reply to topics in this forum