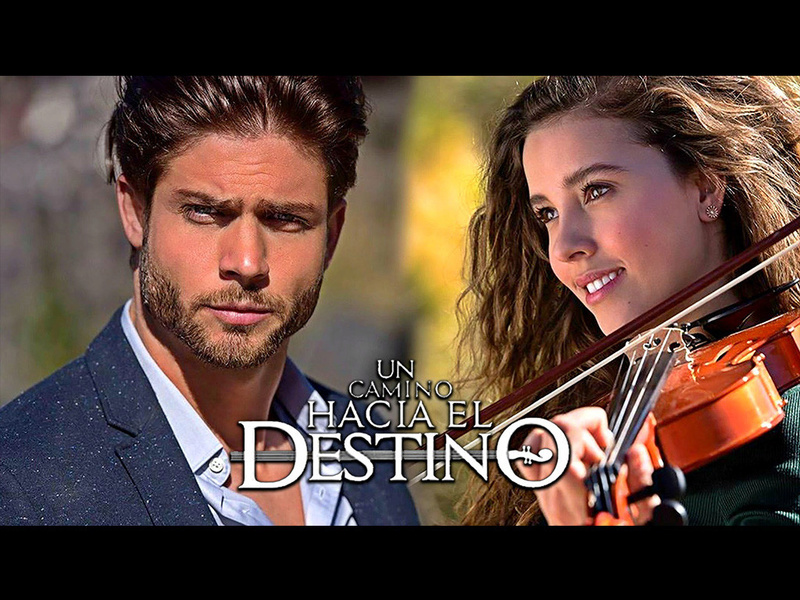 Hellooo wonderful people, we are continuing with ROAD TO DESTINY and in today's episode,
Felipe calls Carlos to invite him out for a date made for four (Fernanda, Carmela, Felipe, Carlos) and he agrees because he thinks it is a perfect opportunity for him to see Fernanda his love again.
The four goes out for the date and Carlos focusing on Fernanda alone and not actually paying attention to anything. Fernanda thinks Carlos is a playboy who has so many girls and she said this out of jealousy since she thought it was really true that Carlos proposed to Camilla and quickly she leaves and Carlos goes after her to the wash room to plead with her and there and then they kiss and as they come out and he continues to explain things to her, in the vein Luis was also at the restaurant and he sees and overhears Carlos telling Fernanda he only loves her and not Camilla.
Amelia wishes to tell Fernanda that Pedro isn't her father but Pedro says he is never going to allow her do that because no matter what Fernanda is his daughter.
Blanca pleads with Mariana to go look for her sister Amelia since she called and she thinks this could be best time to reconcile with her father. Mariana says that, to her, her father sees Amelia as dead and therefore there is no need to look for her but after several insisting from Blanca, she agrees to look for her unwillingly.
Luis comes home angrily to tell his wife about seeing Carlos with Fernanda and there is no doubt that he can blame Carlos for all the problems he is going through with that girl since he gave the medical report. Marissa assures to talk to Carlos about it. Quickly Isabella and Andrea arrives to have dinner with Merissa and Carlos feels tensed but Andrea pretends not know Luis in her life time before. Marissa then introduces her to Luis and as they kiss Andrea blinks her eyes to sign Luis.
Felipe drops Fernanda and Carmela at the campus and Fernanda also tells Camilla that she also love Carlos and Camilla gets pissed off and Fernanda thinks it not fair that she will get angry because she only wanted Camilla to know what she also felt about Carlos so they agree to play fair and see who Carlos actually likes and Camilla thinks she is going to win Carlos.
Don Fernando finds out through a mail that the so called company Hernan recommended never existed and Harnan tries enquiring from Don Fernando to ask what he thinks about the deal and he angrily says that they only reported that the company was just swindlers and that he is never going to end there. After Fernando left, Hernan questions Mariana what sort of lawyer she gave her father cos he's spoilt his plan.
Carlos breaks up with Isabella and this was after she confronted him about where he went to at that afternoon and stood her up but he tells her that if she doesn't trust him it's over and she tries apologizing but Carlos won't and Camilla immediately phone in and Isabella gets jealous and Carlos asks Camilla to hang up because he is somewhere.
Blanca tells Fernando about Amelia calling in and therefore will plead that he forget the past and look for Amelia but Don Fernando still insists that the only daughter he has is Mariana and therefore asks her to go sleep and leave him alone.
Camilla tells Fernanda that Felipe is a great catch and therefore she give it a thought but Fernanda thinks if that is so then she (Carmela should try) and shouldn't force her to be with felipe and also a reminder that they play a fair game and Camilla says it skipped her mind. She then suggest to Fernanda that they go out for fresh air.
Rosario (Chao) advices Carlos to spill the truth about his love for Fernanda to Isabella to end this drama from Isabella and breakup with her for good but he thinks it needs a gradual process but Rosario thinks the time is now or never because without doing that it shows he actually isn't in love with Fernanda as he says.
Camilla and Fernanda goes out and one of the nun sees them but far away and they run to hide under a tree but the nun/teacher knowing them very well where they can hide, she opens the spring tab/pipe and as it sprinkles on them they talk aloud and the teacher catches them.

---
Permissions in this forum:
You
cannot
reply to topics in this forum